Film coating equipment
Thanks to our collaboration with A.G.M. srl, a company with decades of experience in the design and construction of plants dedicated to air treatment for industrial, food and pharmaceutical/nutritional applications, we are able to provide equipment dedicated to the film coating of solid forms, for both nutritional and pharmaceutical applications.
These coating pans (JetCoater) have a perforated pan which, unlike the classic pans, is not developed in diameter, but in depth: this allows to keep the cores' bed as small as possible, guaranteeing a homogeneity of temperature between the surface and the inside the tablets/capsules' bed. In addition, this special ratio between depth and diameter makes the coating process very fast, guaranteeing a very low consumption of electricity.
JetCoater (Laboratory)
Interchangeable pan of 10 L or 20 L.
Possibility of setting up a pan for industrial pilot scate up to 50 L.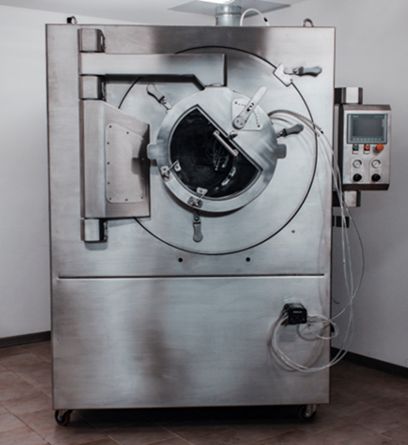 JetCoater (Industrial)
Interchangeable pans of 100, 150, 200, 250, 300 L.
Another advantage given by JetCoater is the minimum impact on the integrity of the tablets; minimizing mechanical stress with the rolling the tablets.
The coating pan can be connected to the network with suitable software and is equipped with a fan, heating coil, aspiration and EPA filters.
Furthermore, our equipment can be modified in size to adapt to the space available to our customers. We guarantee a 100% made in Italy product at a competitive price compared to market standards.
Tablet Coating Systems: an overview